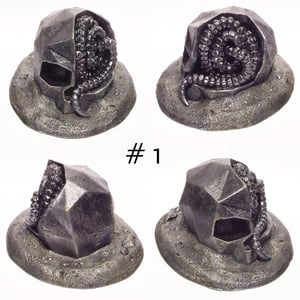 £

15.99 - On Sale
Well, you didn't think Skelevex was a human skull did you?
These remains clearly display some kind of parasites, which were apparently living within their host's brain.
The first five one of a kind Skelevex pieces in the new Parasite range, measuring 3" long.
Hand painted polyurethane resin, each featuring a hand sculpted parasite, in DMS' signature anomaly tentacle style.
Please select the piece you would like from the options menu.
Please note:
May appear slightly different to the above photos, due to studio lighting and monitor settings. May contain small imperfections, due to the hand made nature of the piece.
Not suitable for under 14 yrs. Adult collectable art piece, not a toy.
Please allow up to 14 business days for delivery.
By ordering, you agree to our terms and conditions which are available to view of the menu of this site.